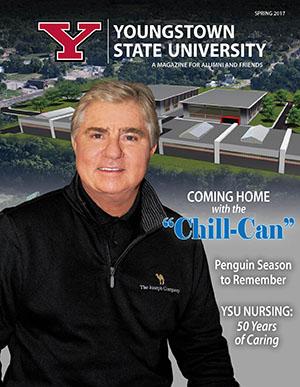 In this issue
3 Alumni News – We've got Penguins in every state – see where they live – and check out alumni-sponsored championship watch parties across the country.
6 Sports News: A Championship Effort – Photos capture the Penguins' exciting trek to the FCS National Championship contest.
8 COVER STORY – Chill-Can Entrepreneur Comes to Ytown – Read about Mitchell Joseph, a YSU grad that holds a patent on the world's first self-chilling beverage can. He's building a $20 million manufacturing plant in Youngstown.
11 Eating Disorders – a Closer Look – Moved by the bulimia-related death of a student, six Human Ecology faculty research the causes and ways to prevent eating disorders.
14 Celebrating Endowed Chairs – Examining the importance of endowed chairs and profiling two: David Stout, Accounting, who is retiring, and newly-arrived Eric MacDonald, Electrical and Computer Engineering.
16 Nursing Department Marks 50 Years – So much has changed since YSU created its Department of Nursing in 1967. We track the changes in photos – and in numbers.
18 Faculty/Staff Bookshelf and Art – Proudly celebrating the achievements of faculty and staff who published books or had their work featured in photo and art exhibitions and in musical recordings.
21 Major Grant Funds Prof's Eye-Tracking Research – Computer Science professor Bonita Sharif is the first in YSU history to be awarded a prestigious National Science Foundation grant.
22 Around Campus – Keeping readers informed on the latest YSU campus news and events.
26 Alumni Spotlight – Read about three exceptional grads: Bill Barta, '05 BSAS, a police officer who has created a classroom security device for schools; Mirta Reyes-Chapman, '92 BE in Civil Engineering, named a Distinguished Hispanic Ohioan; and Racquel Wright, '16 MSEd in School Counseling, starting off her career in a remote village in Alaska.
40 Golden Year – YSU's Ward Beecher Planetarium marks its 50th anniversary.
Departments
  2 President's Message

25 Letters to the Editor

30 Philanthropy

32 Student Success Stories

34 Class Notes
---