Award-winning artist featured at YSU's Red Press Collaborative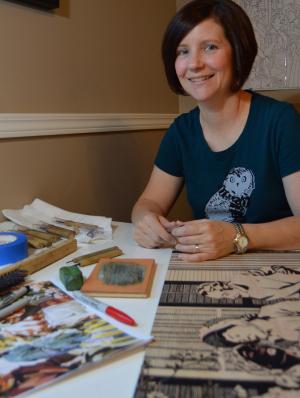 The Department of Art at Youngstown State University announces a new Red Press Collaborative installment featuring guest artist Kristen Powers Nowlin Monday, Feb. 20 through Wednesday, Feb. 22 in Room 4025 of Bliss Hall.
Patrons may stop by any day during that week from 9 a.m. to 4 p.m. to observe the printmaking process. A reception will be held on Monday, Feb. 20 at 4 p.m. in Room 4025. All events are free and open to the public anytime during the open hours.
YSU art students will collaborate with Nowlin to produce a limited edition print. Printmaking will take place throughout the week. Prints, which are $125, will be pre-sold during the event. All proceeds from the print will support students of the YSU printmaking program and the print collaboration itself.
Nowlin, a native of Ames, Iowa, earned a bachelor of Fine Arts degree from the Columbus College of Art and Design in 1992 and a master of Fine Arts degree in Printmaking from Ohio University in 1995. She has previously taught at Southeast Missouri State University, Adams State College, and Clarion University of Pennsylvania, where she was an associate professor of Printmaking and Drawing. Currently, she works full-time on her artwork and teaches part-time at Kansas State University in Manhattan, Kan.
Her work has been included in more than 200 solo and group exhibitions, nearly a third of which have been national juried exhibitions. She has received a Pennsylvania Council on the Arts Individual Artist Fellowship in the discipline of Visual Arts – Works on Paper and has been an artist-in-residence at the Lux Center for the Arts in Lincoln, Neb., and at Central Wyoming College in Riverton, Wyo. In addition, she was recently a Visiting Artist at the Paper Fox Printmaking Workshop at Lawrence University in Appleton, Wis., and at Wichita State University in Kansas.  
The Red Press Collaborative is a program designed to promote fine art printmaking at YSU and within the Mahoning Valley. A limited edition print is created through the collaboration between a visiting guest assisted by YSU art students. Various printmaking methods, such as Intaglio, Relief, Lithography, Screenprint and Digital Printing, will be utilized and showcased throughout the program.
Greg Moring, chair of the Art Department, said the Red Press Collaborative is named for the actual press, an American made Takach lithography press, located in the print making studio. He said the press is red to honor YSU and legendary Tamarind Master Printers Bill Lagattuta and Jeffery Sippel, but also for the fact that this is a collaborative project whereby students have the opportunity to work alongside and learn from professional artists.
"Print collaboration in its tradition has fostered relationships between professional artists and students, using the most contemporary and comprehensive printmaking concepts available," said Joseph D'Uva, associate professor and area coordinator. "The Red Press Collaborative is a means towards creating these interactions and educating future fine art printmakers. We are excited about this year's guest artist and look forward to both the print and the tee shirt image, both of which are unknown until the process begins."
Parking is available in the M30 Wick Avenue parking deck via Walnut Street (GPS address is 100 Wade Street, Youngstown OH 44502) for a nominal fee. Patrons are advised to watch for posted detours as construction progresses on Wick Avenue. For more information, call 330-941-2307.