Mad About the Arts Feb. 17 benefits McDonough, WYSU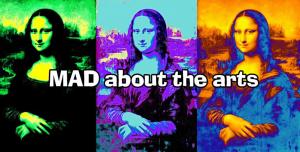 The 22
nd
annual edition of Mad About the Arts, an art-music-dance-wine-food event to benefit the McDonough Museum of Art and 88.5 WYSU, is 7 to 10 p.m. Friday, Feb. 17, at the art museum on the campus of Youngstown State University.
The event includes music from the YSU Jazz Ensemble and The Sensations. Wine and beverages will be available from A&C Beverage, L'uva Bella Winery, Markko Vineyard, Pressed Coffee Bar & Eatery and Thirsty Dog Brewing Co. Aladdin's, Cassese's MVR, Inspired Catering by Kravitz, and Rulli Bros have prepared special menus. Desserts will be provided by Giannios Candy, Jimmy's Italian Specialties and One Hot Cookie. Items will also be offered by Cafe Augustine, a job skills and life skills training establishment for inner city youth and young adults who are disconnected from the working world.
On exhibit in the museum galleries are two exhibits: "Alex Webb: La Calle Photographs from Mexico" and "Selections from the Collection of the Richard M. Ross Art Museum, Ohio Wesleyan University".
Tickets are $80. Tickets are $65 for WYSU and McDonough Museum members, as well as YSU faculty, staff, students and fine arts alumni. Tickets can be purchased online at www.wysu.org/madaboutthearts or by phone at 330-941-1777.
Parking available for $5 in the M-30 parking deck on Wick Avenue. Due to construction, the Wick Avenue deck entrance is closed; follow posted detours to the Walnut Street entrance or for GPS address use, 100 Wade St. Youngstown, OH 44502.