QUEST celebrates student scholarship at YSU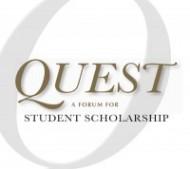 Youngstown State University's QUEST Forum for Student Scholarship is Tuesday, April 4. Hundreds of undergraduate and graduate students present their scholarship at the annual forum.
Scholarship presented ranges from scientific findings and engineering designs to musical scores and poetry readings.
The event, free and open to the public, begins at 8 a.m. with sessions running throughout YSU's Kilcawley Center through 5 p.m.
Awards will be given in a variety of categories, including Best Undergraduate Project and Best Graduate Project.
For more information, and to access the Quest program and list of all presentations, visit the QUEST website. Follow Quest on Twitter @YSU_quest.