Spring Commencement: "I wanted to make a difference," Saudi graduate says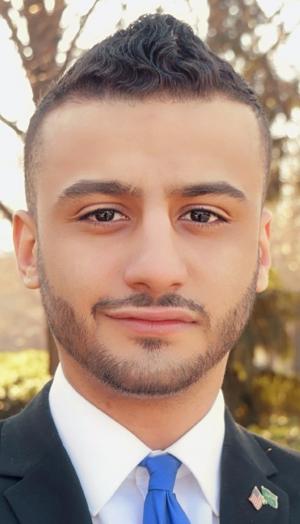 Abdullah Khalil experienced some lonely days when he arrived at Youngstown State University five years ago, an international student far from his Saudi Arabian home.
Now set to graduate on Saturday, May 6 with a bachelor's degree in Business–Human Resource Management, Khalil has worked for changes that he hopes will ease college transition for other foreign students.
"I wanted to make a difference," he said, "and I think I'm leaving things a little better for international students."
Khalil will be among more than 1,400 graduates expected to attend YSU's Spring Commencement on Saturday in Beeghly Center on campus. The commencement includes morning and afternoon ceremonies. Graduates in the Williamson College of Business Administration, Beeghly College of Education and the College of Science, Technology, Engineering and Mathematics will participate in the ceremony at 9:30 a.m. Graduates in the College of Creative Arts and Communication, Bitonte College of Health and Human Services and the College of Liberal Arts and Social Sciences will participate in the ceremony at 2:30 p.m.
Khalil, as president of YSU's International Student Organization, led a restructuring process that increased the number of leadership positions in the organization, expanded the group's social media presence and created a United Nations Committee. "If you think about it, we have 325 international students on campus, we are a minority," he said. "I think it's important to have a voice."
He also served as cultural director of the Saudi Student Organization, presenting the first Saudi Arabian cultural event on campus. In addition, he co-founded YSU iPals, another group for internationals, and worked to get foreign students involved with volunteer projects, making gift baskets for newcomers and the first-ever international student float for YSU's Homecoming.
Khalil was familiar with the Mahoning Valley when he came to YSU, having spent his junior year in high school as an exchange student at Boardman High School. After completing high school in Saudi Arabia he accepted an offer from the General Organization for Social Insurance, the Saudi equivalent of Social Security, to attend the college of his choice in the United States, all expenses paid – in return, he is committed to work for GOSI the number of years he's in college.
He spent his first college semester at a private university in a wealthy Connecticut community, but he missed the friendly people and what he calls the "small town" environment of Youngstown. He considered other universities around the country, and then chose YSU. "My heart was to come back to Youngstown," he said.
Khalil's parents and his younger sister will attend his commencement, then they'll take a family vacation together before he returns home to start his new job with GOSI. Eventually, he hopes to return to the United States to earn an MBA and to start a business-consulting firm offering work opportunities to YSU business graduates. "I'll never say goodbye to Youngstown," he said. "I love the people here, and I hope I've broken some of the stereotypes that some people have about Saudi Arabia."
Nathan Myers, associate provost of International Programs, said Saudi Arabian students have comprised the largest percentage of YSU's international student population in recent years – they made up about a third of the total this spring. That is changing, however, because the Saudi Scholarship program is evolving. "We are spending more time and resources recruiting students from other markets, such as Nepal, India, Vietnam, Ghana and Korea," he said. "We expect to see growth in those areas."