Student learns the ins and outs of Mickey's world at Disney internship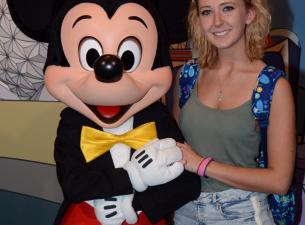 Every child fantasizes about a Walt Disney World Resort vacation. So what is it like to work there?
Youngstown State University student Lindsey Opritza of Struthers got to find out when she landed an internship at Walt Disney World in Orlando through the Disney College Program.
Opritza, a Special Education major with a 3.5 GPA, worked earlier this year at the Florida resort. "It was the best experience of my life," she said. "If I could go back, I would."
She was employed as a hostess at Mama Melrose, an Italian restaurant in Disney's Hollywood Studios. "I learned a lot of social skills because I had to interact with people from different countries," she said. "And I learned more about myself, living on my own and working for a company."
Opritza was assigned an apartment by Disney that she shared with five other students. Upon learning the Disney traditions, she was given a main gate pass that allowed her to visit any park whenever she chose.
The Disney College Program, which began in 1981, has offices in Orlando, near Disney World, and in Anaheim, Calif., near Disneyland. The program considers students, regardless of major, for paid internships at both parks. Opritza was selected after completing a survey and a telephone interview.
The internship experience may affect Opritza's long-term future. She plans to move back to Florida to pursue a career in special education after graduating from YSU, she said. "I'm hoping I can work for Walt Disney on the side."