Thomas Colloquium to feature Veronika Scott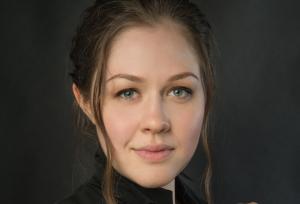 Veronika Scott, founder and CEO of The Empowerment Plan, presents "Empowerment Through Employment" at Youngstown State University's Paul J. & Marguerite J. Thomas Colloquium, set for 7:30 p.m. Tuesday, March 21, in Stambaugh Auditorium, Youngstown.
The event is free and open to the public but, tickets are required. Tickets are available at the Stambaugh Auditorium box office or online at www.stambaughauditorium.com. 
Scott has built an organization that began around a single idea: to design a coat specifically for the homeless. The coat is self-heated, waterproof, and transforms into a sleeping bag at night. That idea has now transformed into a system of empowerment in which homeless women are paid to learn how to produce coats for people living on the streets, giving them an opportunity to earn money, find a place to live, and gain back their independence for themselves and their families.
The youngest recipient of the John F. Kennedy New Frontier Award from the JFK Library Foundation and Harvard University, Scott has also received an IDEA Gold Award from the Industrial Design Society of America and has an honorary PhD of Humane Letters from Johnson State College. Scott has been named one of CNN's Ten Visionary Women in the World and is the winner of the 2014 DVF People's Voice Award. She has also been named a 2015 Forbes 30 Under 30 Social Entrepreneur.
The Empowerment Plan story has been told across the world and shared at events such as the World Summit on Innovation and Entrepreneurship and the Forbes 400 Philanthropy Summit with Oprah, Melinda Gates and Warren Buffett.
YSU, through an endowment established by Paul J. and Marguerite K. Thomas, began the annual "Colloquium on Free Enterprise" in 1981. Reflecting the Thomases' involvement in the business community and their interest in the community-at-large, the Colloquium fosters ideas that are conducive to the growth of the free enterprise system. It promotes free enterprise as a viable force in the U.S. economy. The aims of the Colloquium are: to provide a series of outstanding lectures or workshops by recognized leaders in business, economics, and finance for both the public and the academic community, to provide a library for use by business people, students, and citizens of the community, to serve as a clearing house for the exchange of ideas to foster common goals of industry, business, and finance in the free enterprise system, and to stimulate the thinking and long-range planning of business, government, and individuals on ways to foster the growth of free enterprise.