"We Made It! We Sold It! We Bought It!" exhibit opens at YHCIL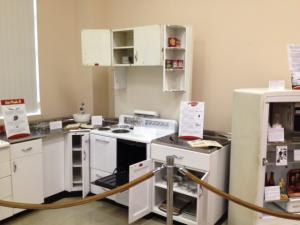 "We Made It! We Sold It! We Bought It!", the Youngstown Historical Center of Industry and Labor's newest exhibit opens to the public May 3. The exhibit, designed by Youngstown State University graduate students, features a wide range of household artifacts that people of the industrial northeast manufactured, bought, and sold during America's golden industrial era (1945-1965). 
YSU graduate students Denis Crawford, Leah Ifft, Michael Marino and Cara Yacovone will be in attendance, from 4 to 6 p.m. May 3 to discuss their exhibit and the process of designing it.
The centerpiece of the new exhibit is a complete Youngstown Kitchen, on loan from the Mahoning Valley Historical Society. Mullen's Manufacturing of Salem, Ohio made these cabinet and counter sets using steel from Sharon Steel.  Other artifacts include appliances, bakeware and toys from the same era. These artifacts represent the economic and industrial strength that characterized Youngstown and other northeastern cities of industry.
Limited parking is available at the museum. Additional visitors may park on Wood Street or in metered YSU lots.

The YHCIL is an Ohio History Connection site located at 151 West Wood Street in Youngstown, Ohio. Youngstown State University's History Department manages the museum. Summer hours of operation, beginning May 10 are 10 a.m. – 4 p.m. Wednesday, Thursday and Friday and noon – 4 p.m. Saturday.
For information on rates of admission, guided tours and group visits, visit ohiohistory.org/Youngstown or call 330-941-1314.