YSU and University of Szeged sign cooperation agreement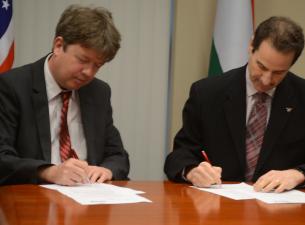 Youngstown State University students studying in the Dana School of Music will soon be able to study abroad in Hungary under an agreement signed March 8 between YSU and the University of Szeged. The agreement will also allow students from Szeged to study at YSU, helping to expand the international exposure of students on campus as well.
"The General Academic Cooperation Agreement between YSU and Szeged formalizes the joint academic endeavors that have been occurring in practice between the two academic communities," stated Nathan Myers, YSU associate provost International and Global Initiatives. "It is our wish that these activities continue and that both the formal agreement together with the delegation's visit provide a foundation for an expansion of the work that Szeged and YSU have been undertaking."
Members of the Szeged delegation visiting YSU included Péter Tóth, dean of the School of Music; Professor Ferenc Szecsődi, head of the String Department and professor of Violin; and Anikó Szokody, professor of Piano.
Szecsődi, a violinist, and Szokody, a pianist, also gave a recital at St. John's Episcopal Church in Youngstown during their visit. They performed a repertoire including Sonata in A major by Cesar Franck; Three Hungarian Folk Dances​ and Sonata in D major Op. 9 by Leó Weiner; Scherzo by Péter Tóth; Brautzug by​Jenő Hubay and Banjo and Fiddle by William Kroll.