YSU Foundation Heritage Park dedicated on campus
A park honoring some of the most distinguished former faculty and staff in Youngstown State University's 100-year plus history was dedicated today on campus.
Located on Elm Street just north of Kilcawley Center, the YSU Foundation Heritage Park features a basketball court, sand volleyball court and a stone wall that includes the engraved names of the 73 former faculty and staff who have received the YSU Heritage Award, considered to be the highest award given to former university employees.
"The list of recipients of the Heritage Award is a literal who's who of YSU over the past 35 years," said Paul McFadden, YSU Foundation president. "We are excited about developing this special place on campus to celebrate the contributions these individuals have made to YSU's legacy."
Dozens of former and current faculty and staff, including many recipients of the Heritage Award, attended the dedication this afternoon.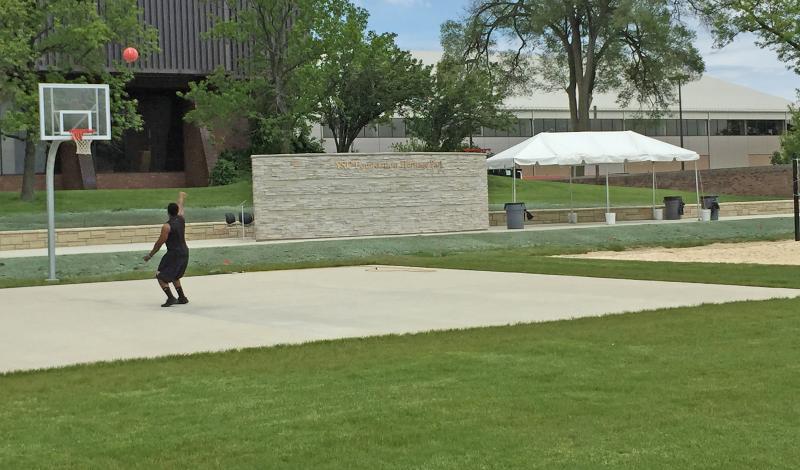 "As a former administrator, recipient of the Heritage Award and someone who loves YSU, I cannot say how pleased I am that the university and the YSU Foundation has provided this special place to honor its most outstanding employees," said Phil Hirsch, retired director of Kilcawley Center and executive director of Administrative Services. "This park and wall will serve as a reminder of the talent and dedication of so many employees who worked to make this a great university."
The park also recognizes the 50th anniversary of the YSU Foundation, which funded the $100,000 project.
See a full list of past Heritage Award recipients here.
The dedication took place prior to the annual YSU Staff Awards Dinner in Kilcawley Center. At the dinner, K.J. Satrum, retired executive director of Student Services and a champion for students for more than three decades, was the latest recipient of the Heritage Award. On April 19, also in the Chestnut Room on campus, the late Joseph Edwards, former dean of the College of Creative Arts and Communication, was honored posthumously with the Heritage Award.