YSU presents STEM Showcase April 22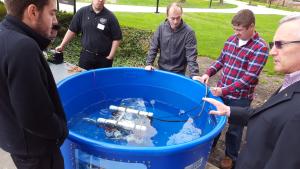 The Youngstown State University College of Science, Technology, Engineering and Mathematics presents its STEM Showcase 10:30 a.m. to 1:00 p.m. Saturday, April 22. The showcase, in Moser Hall on the YSU campus, features access to STEM's high-tech labs and some of its best students.
Free and open to the public, this event is an opportunity for high school students and their parents to learn more about YSU and STEM College education and careers. In addition, $1,000 in scholarships will be given away to prospective YSU STEM students who attend the event and complete a survey.
Guests are encouraged to register in advance. To register and for more information, visit www.stemshowcase.ysustem.com.
Facilities open for tours will include YSU's Center for Innovation in Additive Manufacturing (3D printing) and remodeled Physics Labs, showcasing research in lasers and semiconductors. A brand new 3D printer that can print biological tissue will be showcased.
Over 60 student projects will be on display. Among them is a senior design project out of mechanical engineering that involved designing a rover tire rim for NASA. Another team will talk about their research with sloth muscles in an attempt to determine why sloths are so strong. First-year engineering students will showcase their projects which have competed for a chance to become a permanent display at the OhWOW Children's Science Center in Downtown, Youngstown.
Annual favorites, such as the Chem-E Car, Baja Car, Steel Bridge and Concrete Canoe are also expected to be on display.