YSU professor wins Best Art Paper Award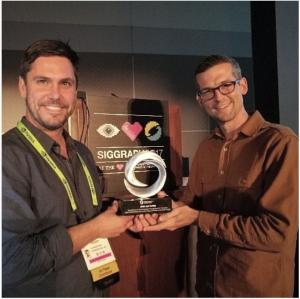 Robert Twomey, assistant professor of Art - Digital Media at Youngstown State University, received the Best Art Paper Award at the 44th SIGGRAPH Conference on Computer Graphics and Interactive Techniques. 
Twomey wrote the award-winning paper, "Transforming the Commonplace Through Machine Perception: Light-Field Synthesis and Audio-Feature Extraction in the Rover Project," with Michael McCrea, research scientist for the Center for Digital Art and Experimental Media at the University of Washington.
The paper will also be published in a special edition of Leonardo, The Journal of the International Society of the Arts, Sciences and Technology, and includes visual documentation of the works exhibited in the art gallery during the convention.
The SIGGRAPH Art Papers program investigates the roles of artists and the methods of art-making in an increasingly global, networked and technologically mediated world. Art Papers contribute to our understanding of the history of art, inform contemporary artistic and critical practices, and anticipate and stimulate future trajectories. SIGGRAPH is short for Special Interest Group on Computer GRAPHics and Interactive Techniques.
This year, papers explored the contributions of artists to the development of virtual and immersive experiences, bridging the digital-physical interface through engaging our embodiment within virtuality: the emergence of consumer VR and AR, how immersive experiences are shaping the cultural landscape, and their potential contributions to human creativity in art, entertainment, analytics, gaming, medicine, science, engineering, robotics, space exploration, communication, tourism, transportation, and cultural exchange. This theme is supplemented with invited talks by emerging-technologies luminaries and panels of experts from industry and the arts.
Authors presented their art papers in 20-minute sessions with five minutes of Q&A.