YSU's Jambar wins top prize in General News Reporting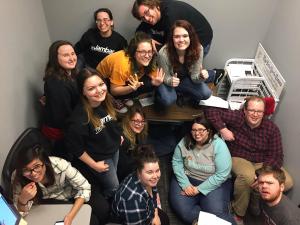 The Jambar
, Youngstown State University's student newspaper, placed first in General News Reporting and was a finalist in two other categories in the Society of Professional Journalists Region 4 Mark of Excellence Awards.
YSU student journalists Samantha Phillips, Justin Wier and Dan Hiner took home the top news coverage prize in the large school division, comprised of universities with 10,000 students or more. Their winning five-story entry, titled "YSU Struggles with Poor Morale Among Its Professors," was presented the top award in its category at the conference, held April 3 in Detroit.
"Being Black at YSU," a series of articles authored by Wier, Liam Bouquet and Christina Young, was a finalist in the In-Depth Reporting category in the large school division.
An entry of five editorials on a range of topics, titled "Jambar Editorials Confront Sensitive Campus Issues That Need to Be Addressed," also qualified as a finalist in the Editorial Writing category. Editorial board members responsible for the pieces are: Wier, Phillips, Graig Graziosi, Gabrielle Fellows and Amber Palmer.
Dave Davis, Jambar adviser and Journalism Fellow in YSU's Communication Department, said the Jambar staffers' work was chosen from among hundreds of entries received from universities across a four-state region that includes Ohio, Michigan, West Virginia and Western Pennsylvania.
"This is the toughest competition in college journalism," Davis said. "Being recognized is a great honor, one earned by working hard day after day, by being fair, accurate and honest, and by making a difference in the university community. These students have shown us, once again, that journalism matters."
The Jambar's winning general news entry will be entered into national competition with top-ranked student-written articles representing 12 SPJ regions. National winners will be notified in late spring and recognized at the Excellence in Journalism conference in Anaheim, Calif.