YSU signs agreement with Israeli College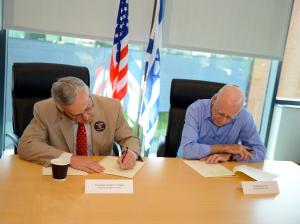 Youngstown State University has signed a memorandum of understanding with Western Galilee College in Israel as part of the university's continued efforts to expand the institution's global reach.
The MOU, which sets the framework for a variety of educational collaborations, is the result of a seven-day trip to Israel in January that included President Jim Tressel and a delegation from Youngstown State University and the Youngstown Business Incubator.
"Western Galilee College and YSU have a relationship stretching back to the 1990s, that is strengthened by the Western Galilee region's historic sister-region relationship with Northeast Ohio," stated Nathan Myers, YSU Associate Provost for International & Global Initiatives. "The renewal of this partnership is a direct result of President Tressel's mission to Israel."
That trip was organized by the Youngstown Area Community Center and underwritten in part by the Thomases Family Foundation of the Youngstown Area Jewish Federation.
"I hope that the future collaboration between both institutions will create a climate of working together, both by faculty and students from our organizations," said Western Galilee College President Dov Dvir.
The agreement outlines areas of cooperation between the two institutions to include student internships, student and faculty exchanges, joint research and publication opportunities, participation in seminars and academic meetings, exchange of academic materials and the development of special short-term academic programs.
"Western Galilee College has many strong attributes including their campus location, their medical facilities as well as their academic capabilities," explained Myers. "We envision that the partnership with Western Galilee College will facilitate a strategic footprint for YSU's faculty-led tours to Israel."
This MOU expands the university's international footprint and the educational opportunities offered to students, faculty and staff. There are currently more than 300 international students from 52 different countries studying at YSU.