YSU team commissioned for mural at Southwoods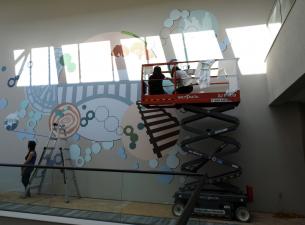 A team of four Youngstown State University art students, led by associate professor of Art, Dragana Crnjak, were chosen by Southwoods 250 to develop and paint a mural on an interior wall at the West entrance of Southwoods Medical Building in Boardman.
Participating student artists include: Heather Anderson, Jessica Hollabaugh, Arielle Pilolli and Amanda Spinosa.
"The whole process – from brainstorming, meeting with the client, sketching, discussing and executing the large painting – has provided an incredible learning and professional experience for the students," said Crnjak.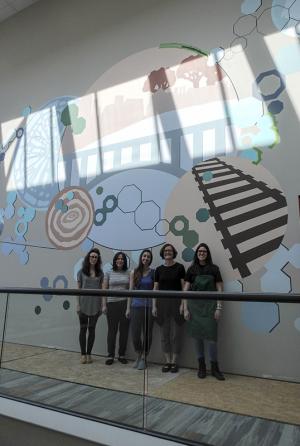 The team of student artists developed the sketch and the main idea for the site-specific painting based on information provided by the clients.  The painting includes elements of Youngstown history and architecture (the cityscape, bridge, railroad), medical elements (cells, molecules), references to nature and community (tree rings, family, houses).  The main logo of Southwoods – the trees – was also considered and included.
"We wanted to develop a mural that will be dynamic and calming at the same time.  The image involves various elements based on the history of the site that goes back to the golden days of steel industry as well as the current medical identity of the site," explained Crnjak.  "We hope the visitors, as they enter the building, will be struck by the energy of the whole painting, and experience this entrance space as both a vibrant and healing place."
The size of the wall (26' high x 40' wide) for the mural provided challenges and learning opportunities for the team of artists, from measuring, enlarging and transferring the sketch to the wall, color mixing and working on the height.  The team spent nine days on-site to complete the project.
"What made the whole process extremely successful was the strong team work," said Crnjak.   This collaborative aspect of the project truly reflects the overall quality of art program at YSU where students influence one another and work together to develop skills needed to become professional artists."