YSU tuition remains lowest in Ohio, Western Pennsylvania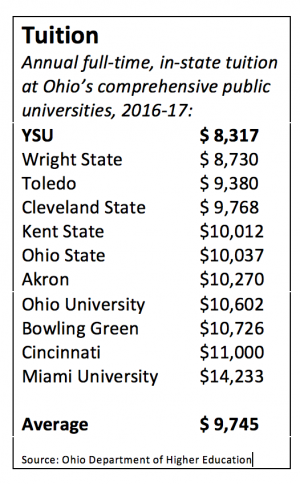 Students attending Youngstown State University will pay less for tuition than any other public comprehensive university in Ohio and Western Pennsylvania under a $175.9 million operating budget approved today by the Board of Trustees.
The budget also appropriates nearly $1 million more for student scholarships.
"Over the course of the last two years, we have worked together to correct a multi-million dollar structural budget deficit, putting us on a healthier, more sustainable financial footing," YSU President Jim Tressel said. "This budget plan allows us to stay on that path while improving the quantity and quality of services to our students."
The state budget, which must be approved by June 30, limits tuition increases for Ohio public universities. If the state budget includes a tuition increase, YSU is likely to approve the nominal increase in tuition the legislation allows. If not, YSU will freeze tuition for a fourth consecutive year.
In any case, YSU's in-state undergraduate tuition will remain the lowest among public comprehensive universities in the state of Ohio. With a full-time undergraduate tuition of $8,317 a year, YSU's cost will be nearly $1,500 below the state average.
"YSU is competitively well-positioned in the state and regional higher education marketplace, especially in light of growing public concern over rising college costs and student debt," said Neal McNally, vice president for Finance and Business Operations.
Meanwhile, trustees approved a $5 per credit hour tuition increase for students in the 22-county Affordable Tuition Advantage region in Pennsylvania, West Virginia and New York. Even with the increase, however, YSU's tuition remains lower than the in-state rate at Pennsylvania public universities across Western Pennsylvania. YSU currently enrolls approximately 1,000 students from the region, a 24 percent increase in the past six years.
Also, trustees agreed to a 3-percent tuition increase for in-state graduate students and 4-percent increase for graduate students in the Affordable Tuition Advantage region.
The budget also includes a $40 increase in the universities transportation fee, to $155 per semester. McNally said the fee, which is used for long-term campus parking needs, is significantly lower than similar fees at other universities. In addition, the budget creates a new career services fee - $1.75 per credit hour for freshmen and sophomores and $2.75 per credit hour for juniors and seniors. Trustees had previously increased room and board charges by 1.1 percent.
Also in the budget is $8 million in student scholarship funds, including a $500,000 increase in Scholarships for Excellence and a $350,000 increase for Graduate Premier Scholarships. In addition, scholarship support from the YSU Foundation is expected to increase to $8.1 million in fiscal year 2018.
The budget is built on a projected 2 percent increase in enrollment for the Fall 2017 semester. After six years of declines amounting to a 17 percent loss, YSU's enrollment increased by 2.3 percent in Fall 2016 to 12,756 students.
The board also today authorized the purchase of the closed Mahoning County Misdemeanant Jail property as the home of YSU's proposed Mahoning Valley Innovation and Commercialization Center (MVICC). The property located at 360 W. Commerce St. is contiguous to the YSU campus, and is currently owned  by Mahoning County. The resolution authorizes Tressel to negotiate and purchase the property.
The MVICC will be a shared-use advanced manufacturing, innovation, and commercialization center, making high value advanced manufacturing assets available to students from career centers, community colleges and the university. A kay part of the growing Innovation Ecosystem within the Mahoning Valley, the MVICC will enable traditional and non-traditional students to design and build new products, develop creative entrepreneurial business concepts, and bring advanced manufacturing technologies to the arts, health sciences, and to the humanities.
The MVICC will provide a collaborative environment for students to engage with regional and national manufacturers in workforce training, product design, product development and advanced manufacturing research.