Welcome to Veterans Affairs at YSU
To those who have served or are currently serving in the Armed Forces of the United States, we want to thank you for your service and welcome you to the Office of Veterans Affairs at Youngstown State University.
We are here to assist you as you consider enrolling at YSU, as well as throughout your journey as a student pursuing your educational goals. We hope you explore the links on the left side of this page for information available to you and your family. Take a minute to learn what your next steps will be in the admissions process and see what makes Youngstown State's Veterans Affairs office a unique and valuable resource.
Please don't hesitate to contact us with any questions at (330) 941-2503 or veterans@ysu.edu, or stop by the Student Veterans Resource Center, located at 633 Wick Avenue. We'd be happy to meet with you in person to answer any questions and show you around.
On behalf of all of us in the YSU Office of Veterans Affairs, we thank you again for your service and hope to hear from you soon!
---
YSU STUDENT VETERANS RESOURCE CENTER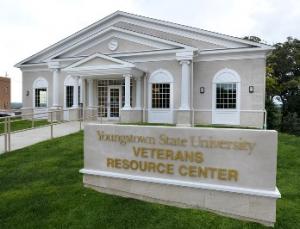 Your new 6000 square foot facility boast accommodations for its veteran student population such as; a veterans lounge, which is equipped with a 55 inch flat screen TV, gaming systems, and comfortable furniture. We also have a state-of-the-art computer lab, equipped with PC's and Mac's (CAC card readers are also available), a community room, vending machines and a kitchenette. We provide the same array of services our office has always offered it's students with the addition of a few extra services such as a Social Work Student Intern, future programming to assist student veterans with various needs, and the increased space just for veteran and military students. It's a dream come true thanks to the efforts of a few veteran alumni who worked over four years and countless hours to secure the land and work out all the details and fund raising and of course the generous donations of many local veteran friendly businesses, patriotic families and community members.
YSU is the only University in Ohio to offer a dedicated building solely for it's veteran and military student population.