Internship in Uganda inspires YSU alum's water campaign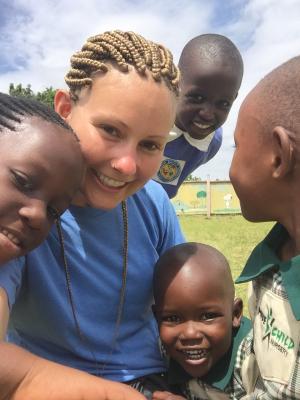 A graduate school internship in Uganda is giving Youngstown State University alumna Sarah Perrine first-hand experience in the misery and discomfort that comes with a lack of clean water.
Now the Medina, Ohio, native is launching a campaign to provide a dependable water source for the people of Masaka, Uganda, the small rural village where she's been serving an internship since early April. She's determined to see the project complete by the time her internship ends July 30.
 "Since coming here, I've experienced a life constrained by having limited access to water, and consequently felt the health effects," she said. "There is such a great need, and I really want to change things for the people here."
A 2014 YSU graduate with dual degrees in Professional Writing and Editing and Environmental Studies, Perrine left for Finland immediately after graduation to attend the University of Jyväskylä in Finland. YSU has an exchange partnership with the school, where Perrine is pursuing a master's degree in Sustainable Management of Inland Aquatic Resources.
She accepted a volunteer internship in Uganda this spring through the MILECHILD Foundation, a nonprofit organization that provides education, water, sanitation and hygiene training for more than 75 children and their families in Masaka County.
The school and the residents there generally rely on rainwater storage tanks to fill their water needs, Perrine explained. That water source has become scarce due to climate change: the wet seasons have become shorter, dry seasons more severe.
Perrine has begun raising funds to drill a borehole – a deep, narrow shaft bored into the ground to reach a water supply – and to install a pump and a 5,000-liter storage tank. She estimates the entire project, including labor, will cost $3,883 – and fundraising efforts hit the $1,000 mark June 7, so the boring process will begin this week.
She's working with the teachers and director of the MILECHILD School, educating them on the proper care of the borehole pump to ensure that it will provide a water source for the community for many years.  She and other volunteers will also instruct the residents on proper ways to purify and store their water.
Uganda is among the least developed nations in the world – the United Nations ranks it 163 out of 184 countries. "Overall lack of access and inadequate quantities of safe water are major hindrances to the country's human development," she said. "With a new borehole to supply large quantities of ground water, the MILECHILD community will no longer be representative of these poor statistics. They'll be able to enjoy their human right to water!"
Click here for more information and updates on the water project.