Project Pass students show improved reading scores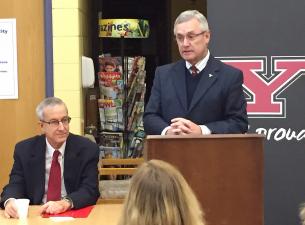 Youngstown City School second- and-third-graders tutored by YSU Project PASS students showed a 29 percent higher likelihood of meeting the state's Third Grade Reading Guarantee.
Project PASS, Penguin Assistants for Student Success, started in January 2015, pairing more than 300 Youngstown State University Education majors with city school second-and-third-graders. The aim was to provide tutoring to improve the younger scholars' reading skills.
It worked.
"This shows the positive effect extended learning time and one-to-one tutoring can have on a child's reading skills," said Krish Mohip, chief executive officer of Youngstown City Schools. "We believe the Project PASS model can be replicated throughout the state between other universities and urban school districts."
YSU President Jim Tressel agreed.
"Project PASS proves that when the city's two largest educational institutions join forces, good things will happen," Tressel said. "Not only has Project PASS resulted in improved reading scores for Youngstown City Schools students, it also has provided an excellent training ground for our teachers-in-training. It also demonstrates the feasibility of other university-district partnerships to enhance literacy and could prove to be an example that can be replicated across the state."
YSU undergraduate teacher candidates underwent instructional training aligned with the city school district's literacy curriculum. The aspiring teachers spent up to 30 hours per semester tutoring the second- and third-graders. Those were hours in addition to the elementary students' classroom instructional time.
A study by the Ohio Education Research Center at Ohio State University showed improvements in those city school students who participated in the one-on-one tutoring program.
"Participating in PASS in at least one semester during the two-year project had a large positive effect on students'" reading scores and "increased the likelihood meeting the Third Grade Guarantee by 29 percent," the researchers found.
YSU funded the study which was also supported by the Ohio Education Research Center.
Caption: YSU President Jim Tressel and Charles Howell, dean of the YSU Beeghly College of Education, at a news conference on Project Pass.